Federal Prison · Business · Information Management - POFT
Beginning Keyboarding
POFT-1329
Summer I 2021
Section F04 CRN-31298
3 Credits
06/07/2021 to 08/09/2021
Modified 05/27/2021
Description

Skill development in keyboarding techniques. Emphasis on development of acceptable speed and accuracy levels and formatting basic documents.

Requisites

Prerequisites:

Corequisites:
Core Curriculum Statement

This course is not a core curriculum course.
1. Demonstrate keyboarding techniques.
2. Apply proofreading and editing skills.
3. Create basic business documents.
Materials
Keyboarding and Word Processing Essentials, Lessons 1-55: Microsoft® Word 2010 , 18th Edition
Susie H. VanHuss; Connie M. Forde; Donna L. Woo
ISBN-10: 0-538-49538-3
ISBN-13: 978-0-538-49538-7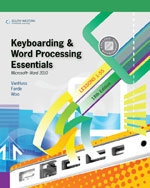 Course requires minimum of timed writings consisting of a minimum of 15% of the grade and a final comprehensive exam that is 20% of the grade.
Evaluation
| | |
| --- | --- |
| Lessons | 80% |
| Timed Writings | 20% |
Criteria
| | |
| --- | --- |
| Letter Grade | Points |
| A | 900-1000 |
| B | 800-899 |
| C | 700-799 |
| D | 600-699 |
| F | 0-599 |
Blinn College Policies

All policies, guidelines, and procedures in the Blinn College Catalog, Blinn College Board Policies, and the Blinn College Administrative Regulations are applicable to this course.

Specific information on civility, attendance, add/drop, scholastic integrity, students with disabilities, final grade appeal, alternative retailers, campus carry and proctoring arrangements and cost.

Notice of any action taken under these protocol and procedures, by Blinn College or its employees, may be delivered by hand, through the U.S. Postal Service, or electronically to the student's Blinn Buc e-mail account. Notice shall be deemed received upon actual receipt, on deposit in the U.S. Mail, or upon entering the information processing system used by Blinn College for Blinn Buc e-mail accounts, whichever first occurs.

Information about the changes Blinn has made to the May Minimester, Summer I, and Summer II semesters: Back with Blinn.
Course Policies

Tutorials:

Wednesday:  4:00 - 5:15, Friday:  7:30 - 10:00
Schedule
Week
Week
Content
Lessons
Points
Timed Writing
Points
Hours
1
7-Jun
Module 1
Alphabetic Keys (Lessons 1-13) – begins on pg. 3
130
Timed Writing 1 Goal: 3 minutes, 20 wpm, 5 errors or less, p. 45, 18e
20
4.8
2
14-Jun
Module 2
Figure and Symbol Keys (Lessons 14-25) – begins on pg. 36
120
Timed Writing 2 Goal: 3 minutes, 22 wpm, 5 errors or less, p. 49, 20e
20
4.8
3
21-Jun
Module 3
Word 2010 Basics (Lessons 26-31) – begins on pg. 72
60
Timed Writing 3 Goal: 3 minutes, 24 wpm, 5 errors or less, p. 58, 25c
20
4.8
4
28-Jun
Module 4
Memos and Letters (Lessons 32-37) – begins on pg. 108
60
Timed Writing 4 Goal: 3 minutes, 26 wpm, 5 errors or less, p. 72, 26b
20
4.8
5
5-Jul
Module 5
Tables (Lessons 38-42) – begins on pg. 135
50
Timed Writing 5 Goal: 3 minutes, 28 wpm, 5 errors or less, p. 79, 27b
20
4.8
6
12-Jul
Module 6
Reports (Lessons 43-48) – begins on pg. 161
60
Timed Writing 6 Goal: 3 minutes, 30 wpm, 5 errors or less, p. 106, 31b
20
4.8
7
19-Jul
Module 7
Graphics (Lessons 49-53) – begins on pg. 203
50
Timed Writing 7 Goal: 3 minutes, 32 wpm, 5 errors or less, p. 108, 32b
20
4.8
8
26-Jul
Module 8
Document Review -  (Lessons 54-55) – begins on pg. 231
20
Timed Writing 8 Goal: 3 minutes, 34 wpm, 5 errors or less, p. 120, 34b
20
4.8
9
2-Aug
Resume
RESUME - Create your own in any format
50
Timed Writing 9 Goal: 3 minutes, 36 wpm, 5 errors or less, p. 133, 37b
20
4.8
10
9-Aug
Project
PROJECT 1 - begins on pg. 241
200
Timed Writing 10 Goal: 3 minutes, 38 wpm, 5 errors or less, p. 135, 38b
20
4.8
 
 
TOTAL POINTS
800
 
200
 
 
 
GRAND TOTAL POINTS
 
 
1000
48