Distance Education · Business and Technology · Business - BUSI
Summer II 2021
Section N22 CRN-40926
3 Credits
07/12/2021 to 08/09/2021
Modified 07/04/2021
Meeting Times

This course is 100% online and requires high-speed Internet or WiFi connection.
Contact Information

Kendra Suhling

Office: 979-209-7659

Cell: 254-733-7055

            Room: 106    Building: Modular 1

E-mail: [email protected]

[email protected] (preferred contact method)

Please contact me by phone or email to make an appointment for office hours. I respond to emails within 24 hours on weekdays and 48 hours on weekends.
Description

The course provides the student with foundational information about the U.S. legal system and dispute resolution, and their impact on business.  The major content areas will include general principles of law, the relationship of business and the U.S. Constitution, state and federal legal systems, the relationship between law and ethics, contracts, sales, torts, agency law, intellectual property, and business law in the global context.  

Three class hours per week. Credit: Three semester hours.

 

Requisites

Prerequisites: High school coursework in U.S. history and government, or equivalent.

Corequisites: None
Core Curriculum Statement

This course is not a core curriculum course.
1. Describe the origins and structure of the U. S. legal system.
2. Describe the relationship of ethics and law in business.
3. Define relevant legal terms in business.
4. Explain basic principles of law that apply to business and business transactions.
5. Describe business law in the global context.
6. Describe current law, rules, and regulations related to settling business disputes.
Dynamic Business Law w/Connect
Author: Kubasek et al.
Publisher: McGraw Hill
Edition: 5th (2021)
ISBN: 9781260354713
Availability: Campus Bookstores; McGraw-Hill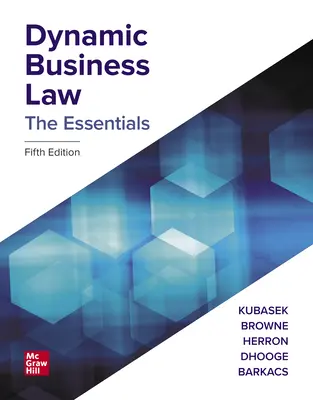 Course Requirements

Participation: Each week there will be a minimum of one quiz and/or homework assignment related to the material covered that week. Participation will count for a minimum of 10% of your final grade.

 Exams: Three major exams will be given covering material from each chapter, which may include short-answer questions.

 Final Exam: The final exam will be comprehensive and will have multiple choice, true/false, and or matching questions.

 Make-up work: You need to take your exams during the assigned times.  Major Exams may be taken late only on rare occasions that are approved prior to Exam date by the instructor.   You need to notify me immediately if you are unable to attend an Exam.  Exams taken late will be subject to a 20% penalty on the grade.  Quizzes, assignments, or projects CAN NOT be made up and the student will receive a zero if the work is not turned in by the due date.
Evaluation

Course evaluation instruments shall consist of class participation, assignments, quizzes, a minimum of three major exams, and a comprehensive final examination.  A 60% accuracy level on the stated learning outcomes is necessary to pass the course.  Instructors may use additional evaluation instruments.   Homework assignments are graded and returned within 3 days. 

 

Grading Breakdown

Exam #1          -    100 points possible                       

Exam #2          -    100 points possible                                               

Exam #3          -    100 points possible

Final                -    100 points possible                       

Non-Exam      -    100 points possible                       

 

                             500 points possible
Blinn College Policies

All policies, guidelines, and procedures in the Blinn College Catalog, Blinn College Board Policies, and the Blinn College Administrative Regulations are applicable to this course.

Specific information on civility, attendance, add/drop, scholastic integrity, students with disabilities, final grade appeal, alternative retailers, campus carry and proctoring arrangements and cost.

Notice of any action taken under these protocol and procedures, by Blinn College or its employees, may be delivered by hand, through the U.S. Postal Service, or electronically to the student's Blinn Buc e-mail account. Notice shall be deemed received upon actual receipt, on deposit in the U.S. Mail, or upon entering the information processing system used by Blinn College for Blinn Buc e-mail accounts, whichever first occurs.

Information about the changes Blinn has made to the May Minimester, Summer I, and Summer II semesters: Back with Blinn.
Course Policies

Please read: Spring 2021 General Classroom Procedures.

Attendance, Academics, and Civility:
Blinn College's Attendance Policy remains in place. Students are required to attend class face-to-face or remotely via Zoom. 
With the exception of a very small number of classes, students may freely opt out of face-to-face instruction. Please check with your instructor if your class is available for remote access. Students participating remotely are still expected to complete assignments by deadlines unless they are excused by the instructor.  
During the remote portion of the class, the space occupied by the student becomes an extension of the classroom. Therefore, expectations for student behavior in the remote classroom remain the same as those for the physical classroom. Please dress as you would on campus, do not eat during class, be mindful of your surroundings, and respectful with your colleagues and faculty. Students who do not follow these rules may be subject to the College's Incivility Protocol and may be removed from the Zoom remote classroom. 
This class may be recorded for future academic use.
Students shall communicate with the instructor in writing as to their option of not attending class in person.
Students may not change days for which they are scheduled to attend on-campus class without the faculty member's approval.
While attending class in a remote capacity, students are required to keep their cameras on during the entirety of the class time.
Although Blinn computer labs are expected to be open during the vast majority of the semester, students should have access to the following technology in the event that campuses are required to close:

a full computer (not a Chromebook, tablet, or smartphone),
a webcam (for simultaneous remote participation and test proctoring),
microphone,
and reliable internet connection.
Schedule

 
Week 1

 

All assignments due by midnight, July 16

 

Part 1 – The Legal Environment of Business

 

Read Chapters 1, 2, 3, 5; complete all assignments under Week 1 module

 

EXAM 1

 

 

12

Week 2

 

All assignments due by midnight, July 16

 

Part 2 – Contract Law

 

Read Chapters 9 through 13; complete all assignments under Week 2 module

 

EXAM 2

 

 

12

 

 

Week 3

 

 

All assignments due by midnight,

July 30

 

Read Chapters 7 – Tort Law; complete all assignments in Week 3 Module

 

EXAM 3

 

12

 

Week 4

 

June 28, 2021

 

All assignments due by midnight, August 7

 

 

Part 7 – Business Organizations

 

Read Chapters; complete all assignments in Week 4 Module

 

FINAL EXAM

 

12

 

 

 

 

Total Contact Hours

48

 

 

 

 

 

 

 

 

 

 

 

 

 

 

 
Course calendar and related activities

| When | Topic | Notes |
| --- | --- | --- |
| | | |