Distance Education · Business and Technology · Computer Science - BCIS
Business Computer Applications
BCIS-1305
Summer I 2021
Section NX1 CRN-30705
3 Credits
06/07/2021 to 08/09/2021
Modified 06/07/2021
Meeting Times

24 hours, 7 days per week

This course will be delivered 100% online, asynchronously, which means the course is self-directed, but not self-paced.  The course is being run on an asynchronous basis, but that there are still synchronous virtual Office Hours where students can communicate with their Instructor in real time.

Definitions:
Self-directed:  It is the student's responsibility to follow the course schedule and complete all required work prior to each due date.  It is the student's responsibility to reach to their instructor within a timely manner if they require assistance.  Students should consider the due date of their assignment in comparison to the Time Standards listed above when planning out the best time to work on their assignments.
Self-paced:  This course is not self-paced, which means that students must follow the due dates and the set exam windows that are on the course calendar. 
Asynchronous:  Students are given a time frame to complete each module and/or exam, and decide for themselves when to complete their work within that time frame.  Students are not expected to attend virtual lectures in real time.
Synchronous:  Office hours and virtual appointments are the student's opportunity to discuss the material with their instructor in real time.
Contact Information

Kym Schultz, MBA

Cell: 979-575-5375

Virtual Office Hours: You may email or text me between the hours of 5P-9P, Monday-Thursday.  I answer texts and check emails on the weekend also, but sometimes it is not as frequently as during the week.  If you are stumped or need additional help, we can always set up a Zoom call.
Description

Introduces and develops foundational skills in applying essential and emerging business productivity information technology tools. The focus of this course is on business productivity software applications, including word processing, spreadsheets, databases, presentation graphics, data analytics, and business-oriented utilization of the internet.

(BCIS 1305 is included in the Business Field of Study.)

Three class hours per week. Credit: Three semester hours.

 

Requisites

Prerequisites: None

Corequisites: None
Core Curriculum Statement

This course is not a core curriculum course.
1. Describe the fundamentals of information technology concepts – hardware, software, security, and privacy.
2. Demonstrate proper file management techniques to manipulate electronic files and folders in local, network, and online environments.
3. Create business documents with word processing software using spelling and grammar check, format and layout, tables, citations, graphics, and mail merge.
4. Create business documents and analyze data with spreadsheet software using (1) tables, sorting, filtering, charts and graphics, pivot tables, macros; (2) statistical, financial, logical and look-up functions and formulas; and (3) add-ins.
5. Create business multimedia presentations with presentation software using templates, lists, groups, themes, colors, clip art, pictures, tables, transitions, animation, video, charts, and views.
6. Create databases and manage data with database software using tables, fields, relationships, indexes, keys, views, queries, forms, reports, and import/export functions.
7. Integrate business software applications.
8. Use web-based technologies to conduct ethical business research.
9. Use "goal seeking" and "what-if analysis" to solve problems and make adjustments/recommendations in a business environment.
Microsoft Office 365: In Practice, 2019 Edition (LL+Access)
Author: Nordell
Publisher: McGraw-Hill
Edition: 2019
ISBN: 9781264354542
Availability: Campus Bookstore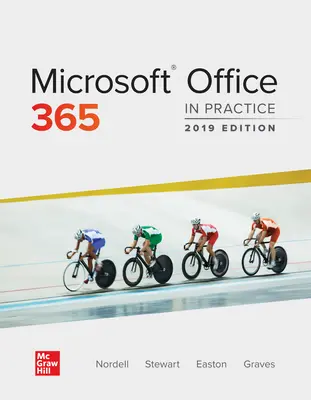 Criteria
| | |
| --- | --- |
| Participation (Discussion Posts) | 10% |
| Quizzes | 20% |
| Let Me Try's | 10% |
| Projects | 20% |
| Exams (4 Exams - PowerPoint, Word, Excel, Access) | 20% |
| Finals (4 Final Exams - PowerPoint, Word, Excel, Access) | 20% |
Blinn College Policies

All policies, guidelines, and procedures in the Blinn College Catalog, Blinn College Board Policies, and the Blinn College Administrative Regulations are applicable to this course.

Specific information on civility, attendance, add/drop, scholastic integrity, students with disabilities, final grade appeal, alternative retailers, campus carry and proctoring arrangements and cost.

Notice of any action taken under these protocol and procedures, by Blinn College or its employees, may be delivered by hand, through the U.S. Postal Service, or electronically to the student's Blinn Buc e-mail account. Notice shall be deemed received upon actual receipt, on deposit in the U.S. Mail, or upon entering the information processing system used by Blinn College for Blinn Buc e-mail accounts, whichever first occurs.

Information about the changes Blinn has made to the May Minimester, Summer I, and Summer II semesters: Back with Blinn.
Course calendar and related activities
When
Topic
Notes
Orientation & First Assignments
DUE 06/13/2021
Contact Hours - 3
Orientation Assignments
Module 1 Work
DUE 06/20/2021
Contact Hours - 6
Introduction & PowerPoint
Module 2 Work
DUE 06/27/2021
Contact Hours - 6
PowerPoint
EXAM 1 DUE
DUE 06/28/2021

PowerPoint

PowerPoint Exam

06/07/2021 - 06/28/2021

Module 3 Work
DUE 07/04/2021
Contact Hours - 6
Word
Exam 2 DUE
DUE 07/05/2021

Word

Word Exam

06/28/2021 - 07/05/2021

Module 4 Work
DUE 07/11/2021
Contact Hours - 6
Excel
Module 5 Work
DUE 07/18/2021
Contact Hours - 6
Excel
EXAM 3 DUE
DUE 07/19/2021

Excel

Excel Exam

07/05/2021 - 07/19/2021

Module 6 Work
DUE 07/25/2021
Contact Hours - 6
Access
Module 7 Work
DUE 08/01/2021
Contact Hours - 6
Access
EXAM 4 DUE
08/02/2021

Access

Access Exam

07/19/2021 - 08/02/2021

FINALS
DUE 08/09/2021 - NOON
Contact Hours - 6
All Units

PowerPoint, Word, Excel & Access Finals